Fish Street and Its Parties – Madrid Malasaña
Madrid is a surprise packed city. For example, a lone street has its own parties. This post is dedicated to calle del Pez, Fish Street, that is celebrating its festival this weekend, June 9th to 11th. So don't feel like a fish out of the water and keep reading!
It's located in the lively Malasaña district between San Bernando street and Saint Anthony of the Germans Church, already mentioned in the last post. Fruit stores, bakeries and daily life make the street look very authentic, but its ambiance, hipster culture, all kind bars, alternative restaurants, book stores, theaters, barber shops, decoration and designer clothes stores make it look special, packed with action and give it a strong identity. There are not many fishes like this one on the sea!
Why is it called like this? At the beginning of the 17th century there was a property with a fish pond. When a house was built here, the water got so muddy that in the end only two of the fishes endured. Blanca Coronel, daughter of the estate owner, took them both into a fishbowl, but they died shortly after. She was so sad that she entered the convent of San Plácido in the same street. The father, in memory of his somehow lost daughter, decided to build an inscription with a fish on the building (number 20 on the street). People started calling the street "the street with a fish" and that soon developed into " Fish Street ".
Many members of the high middle class and the nobility lived here. That's the reason why many high class house line in the street. The first one is the Bauer palace, with the prettiest girl of the street leaning on the wall. This is Julia, the student, a coppery girl that has been here since 2003. Years ago this was full of students, as the Central Madrid University is just round the corner in San Bernardo street. There are other high class related houses, like Bornos Palace – angle with Pozas street – or Baena Duke Palace – angle with Madera street -, both reformed as appartments. The aforementioned San Plácido convent hides spooky stories about officially possessed nuns, unnoficially drugged. It might sound fishy, but this convent has shops on the ground floor.
Besides, this street is also very important in pop culture. The bar El Palentino has been the filming location of a videoclip from Manu Chao or a movie from Alejandro Amenabar, Open your eyes, starring no other than Penélope Cruz. The last movie filmed here was The bar, by Alex de la Iglesia.  You can see this absolutely normal looking bar always full of people because of its prices. Old men of the area, and young bearded guys with tatoos, blending tradition and the hipster culture together are here alike! Everyone is welcome in the Fish Street!
Well, but that was all red herring, wasn't it? As it was said at the beginning, this weekend (9th to 11th of June) San Antonio parties are being held here. This is a self-managed celebration that takes places since four years ago. If the cat would eat fish, it should wet her feet! The activities are many: batucadas, workshops, live music, poetry, dancing, popular games and even a Spanish tortilla context. Here you have the whole Schedule.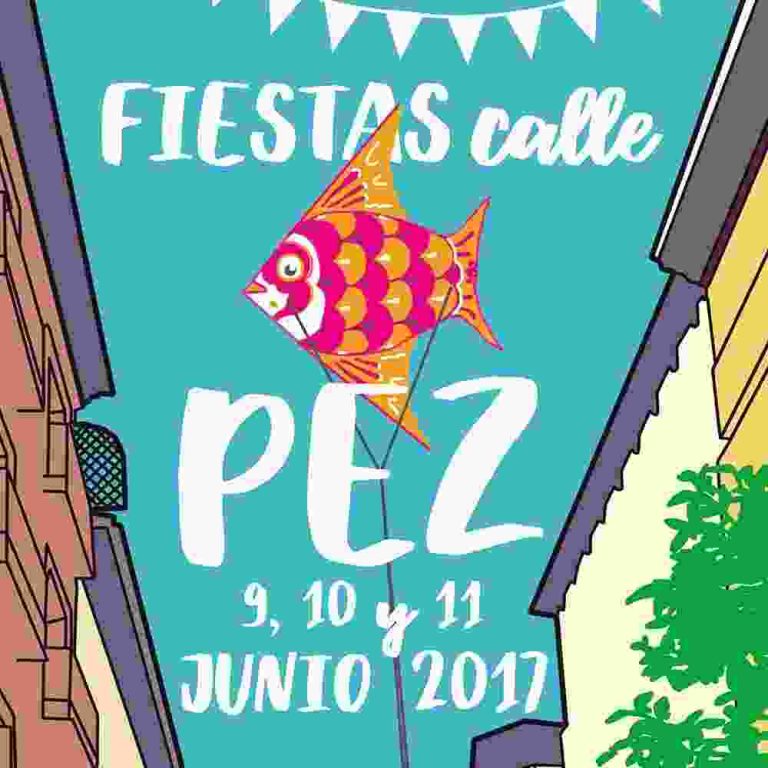 Among those activities, there is a free tour on Sunday. You already know that we love free tours, so if you want to join any, in Leaf Madrid we have different Free Tours Madrid  for you to discover the essence of this amazing city. Don'f you forget that at the end of the tour, we are fish for compliments!